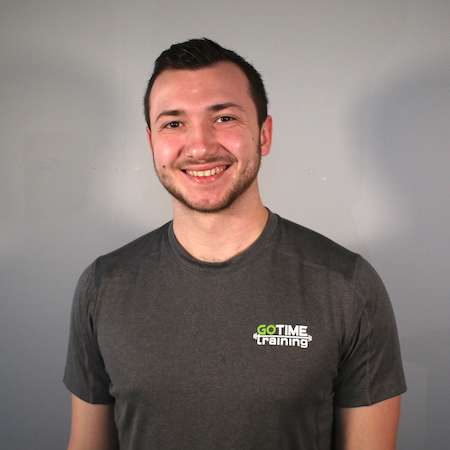 Sean
B.A. in Exercise Science, CPT ACE

Been in the Fitness Industry Since: 2017

Certifications:

B.A. in Exercise Science, CPT ACE
Background:

I grew up competing in gymnastics for 10 years. The strength and endurance required for the sport is what kickstarted my exercise journey and it still influences me today. Gymnastics taught me the amazing benefits and feelings someone can get from nutrition and exercise. I learned that taking care of your body gives you a foundation to take on every other challenge or goal with energy, confidence, and joy. After receiving my bachelors of Exercise Science at WSU and training to be a trainer, I have been able to help others over the years to accomplish great goals, find that foundation, and be confident for other great things in their life.I love GO Time because their values of training match up perfectly with my values. I can't see any other training facility that would be a better avenue for me to help other people achieve great goals
#WhyWeLoveGoTime:

Where you can become the best version of you.
Special Interests:

Card/board games, pickle-ball, coffee
Fun Fact:

I studied abroad in Puebla, Mexico to learn Spanish.
Favorite Splurge Food:

Cheesecake