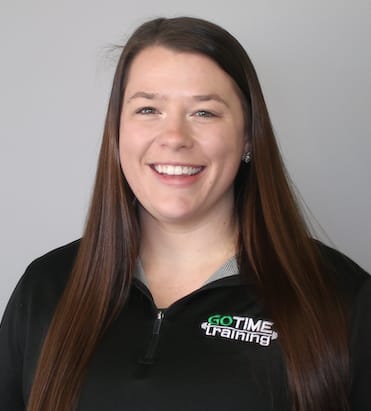 Valan
ACSM Certified Personal Trainer
Been in the Fitness Industry Since: 2018
Certifications:
B.A. Exercise Science, Human Performance Studies
M.A. Aging Studies
USRowing Level 1 Certification
Background:
I was born and raised right here in Wichita, KS. I graduated from Bishop Carroll and went right on to WSU. While attending Wichita State I was on the Varsity Women's Rowing Team all 4 years. I am a very competitive person and during my freshman year at WSU I realized I needed to put in more work if I wanted to reach my rowing goals. I fell in love with lifting and soon found myself helping my teammates who weren't as comfortable in the weight room.
I changed my major to Exercise Science and worked for the WellnessRep program at WSU. In that program I traveled to senior centers and nursing home communities to teach exercise classes and promote healthy habits! I am very passionate about functional fitness and maintaining strength and flexibility as we age.
Currently I am training for powerlifting and hope to compete this year. I am chasing down a 1000 lb. total!
#WhyWeLoveGoTime:
Everyone has a place and can train for their specific goal! No cookie cutter routines here... the program each individual is running was designed specifically for them!
Special Interests:
I am currently training Jujitsu
I have a 2 year old golden retriever, Milo, who loves to walk and swim.
I also love to cook and bake! My most recent obsession is learning to use my smoker!
Fun Fact:
I love to teach myself new things (usually via YouTube) but I can juggle, crochet, balance kneeling on a yoga ball and make biscuits from scratch! If you have any ideas on fun tricks to learn, let me know!
Favorite Splurge Food:
Any and all breakfast foods: Biscuits and gravy, chocolate chip pancakes, cinnamon rolls.