Healthy Food Recipes: GoTime Protein Banana Bread Recipe
This is the updated version of Shannon Dykman's famous go-to healthy food, GoTimeTraining Protein Banana Bread.
Not much has changed and it still remains a staple breakfast recipe for him and GoTimeTraining clients since it's quick to prep and stores well in the fridge for 5-6 days.
It's even air travel friendly, just freeze and pack in your suitcase.
Before you dig in please be WARNED that you cannot bake this with just protein powder. The recipe uses a meal replacement powder that is sold at GoTimeTraining that includes wheat and barley flour for low a glycemic carb sources.
Cooking with just protein powder will result in a sponge like flat bread (just imagine baking bread with no flour–it's not pretty).
Stick with the Core MRP but you can replace the Vanilla flavor with our Peanut Butter Oatmeal Cookie, Snickerdoodle, or even Blueberry Crumb Cake. They all turn out amazing and go well with a natural peanut butter topping to add more fat if needed in your diet.
Protein Banana Bread Ingredients: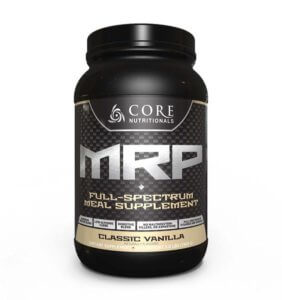 2 ripe bananas, smashed
3 scoops Core MRP Vanilla (Warning: don't just use vanilla protein powder!)
2 whole large eggs
3/4 cup liquid egg whites
2 tsp Kerrygold butter (or skip this and add as topping when you re-heat and eat)
2 tsp extra-virgin coconut oil
2 tbsp coconut flour
2 tsp cinnamon
1 tsp baking powder
3/4 tsp sea salt
10 drops of Sweat Leaf Liquid Stevia Drops (Stevia Clear, adjust to preference of sweetness)
Baking Directions

Step 1: Preheat your oven to 350 degrees.
Step 2: Melt the coconut oil.
Step 3: Spray bread pan with non-stick spray and coat with flour (any flour will do). We like to bake with a Pyrex pan.
Step 4: Smash the bananas in a bowl.
Step 5: Toss all ingredients in a mixing bowl and stir. Don't forget the coconut oil in the oven.
Step 6: Bake for 45 to 50 minutes. Use a toothpick or spaghetti noodle to ensure cooked all the way through. Baking 3 loaves at once comes out perfectly at 50 minutes.
Step 7: Let cool and remove from pan to cut into 8 slices.
Nutrition Facts (Per Slice)
Makes 8 slices and we recommend 2 slices for the ladies and 3 for guys.
Calories – 130
Protein – 10 grams
Carbs – 13.5 grams
Fat – 4 grams
For more healthy recipes like this one try our Healthy Lemon Protein Bread!
Also follow us here on our Facebook page for more healthy recipes, exercises and events!
If you're tired of guessing at how to eat healthy and want a plan to follow with an accountability coach, schedule a 10-min Intro Call with our Fitness & Nutrition Experts below.