Home Workouts to Build Strength And Boost Energy
Welcome to the 4th and final week of your home workouts!
We are so proud of how far you've come!
Each week you should be feeling a little more confident in your fitness with your newfound strength and energy.
You guessed it, on this final week we are going to progress you even more by increasing the intensity and reps of each exercise while continuing supersets again.
Download your Week #4 workout from your email or text messages and let's get to your step-by-step exercise videos below.
Now that you've graduated from your home workouts, we'd love to help get started in Live Virtual Personal Training from home or in studio Personal Training.
Read below about how Vanessa lost 105 lbs in 10 months with our Lifestyle Transformation based training and nutrition programs.
Warm-Up Exercises
Week 4: Home Workouts 1
Week 4: Home Workouts 2
Week 4: Home Workouts 3
Cool-Down Exercises
MEET VANESSA👇 SHE LOST 105 LBS IN 10 MONTHS
At age 46, our client, Vanessa, reached a lifelong dream. She's now an Ironman triathlete.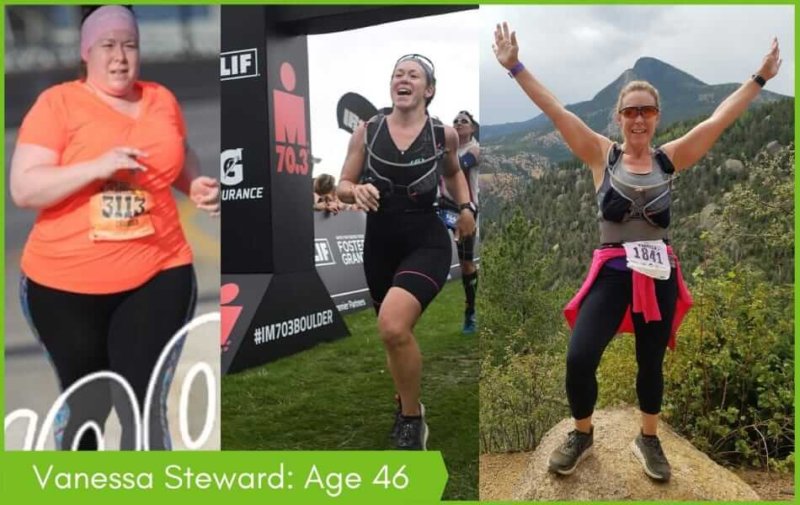 When Vanessa began her lifestyle transformation, her goal appeared as a mountain to climb.
From low energy to no stamina to feeling frustrated with where her current health and fitness was.
We understand that restarting your fitness can come with anxious feelings and concerns about past injuries or ideas of judgement.
At GoTimeTraining we do things differently. We are a 100% private personal training experience with a caring team of professionals that will support you every step of the way from nutrition to exercise. You'll feel that when you read our client reviews.
Today, Vanessa's life can't keep up with her daily energy and her confidence radiates.
Her business is at its best and she is enthusiastic about life's new adventures. She is finally in charge.
There are no secrets, you can live this life, too. You just need to get started by reaching out below and booking a 10-min Intro Call on our calendar so we can learn more about your goals.
We can't wait to help and if you're in need of more fitness and healthy nutrition tips, join us on our Facebook and Instagram pages.