How To Make Meal Prepping More Efficient and Fun
When it comes to eating healthy, one of the best ways to make it easier day to day is to meal prep. Meal prepping takes stress off during the week by cooking everything in advance in order for us to not spend hours in the kitchen when we have other priorities in our life such as work or family. If you are like me, then you don't want to eat the same thing every single week. The better tasting and interesting your food is, the more incentive you have to eat it.
Shopping and Planning Meals
The key to a good meal plan is the PLAN. Before you start cooking or shopping, sit down and plan exactly what meals or recipes you are going to eat throughout the week.You also want to commit to a time during the week to cook or prepare everything you need for that week of meals. You never want to just "wing it" while trying to meal prep for the week. "Winging it" can lead to spending too much extra time wandering the store shopping and wondering what to cook.
It is important to find a system of meal cooking that works for you. A system that works for a lot of people includes cooking 2 meals during the prepping time you set aside, and preparing two meals to freeze that can be quickly cooked in the middle of the week. The first two meals to be eaten the first 3-4 days, and the last two meals to be eaten the last 3-4 days depending on how much you need. It might take some experimenting, but find a system of meal cooking that works for you whether that includes just 1 meal a week prepped or multiple, or maybe even 2 days of meal prep a week. Maybe you like to eat out on the weekends, so you don't need prepped meals then; just meal prep 1 day a week on a Sunday.
Here is an example Meal Prep Plan that contains 3 different meals for the week: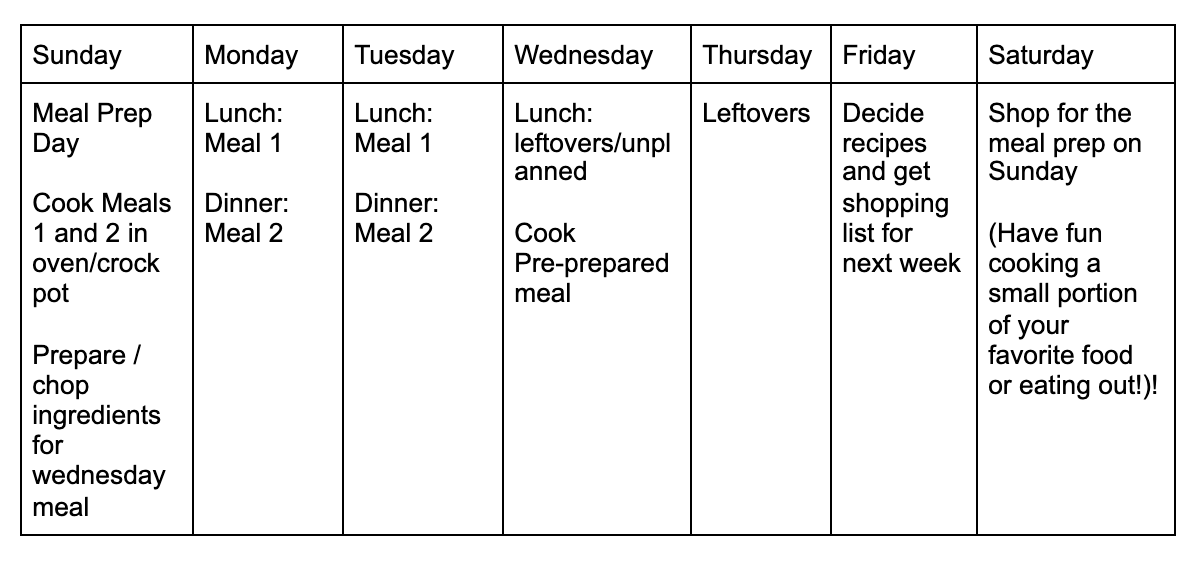 Here are some tips on shopping and planning out your meals
Plan meals and get an ingredient list before you shop
Walk into the store, get the ingredients, and get back home so you have as much time as possible to prep. If you are willing to pay for it, there are services you can use to pay someone to grocery shop for you and have it on your doorstep in a couple hours which gives you time back in your day. Most stores will also offer store pickup which can save time as well.
Only learn a few new recipes at a time
Cooking and prepping a new recipe for the first time will always take significantly longer. If you are constantly learning a new recipe, you will find yourself in the kitchen much longer than you originally planned each week. Instead, try learning a new recipe every other week or so, and repeat it every other week. This way, you will still have a variety of recipes to follow, but will master cooking them making the process faster and more efficient.
Buy in bulk and freeze the left-overs for next time.
It is almost always cheaper long-term, and saves time shopping the next week. Just remember to thaw out anything you need in the fridge the night before you prep.
Start small and learn from there.
If this is your first time meal prepping, don't worry about having a perfect, healthy cooked meal for all three meals plus snacks every single day. Start by prepping 1-2 meals a week. If you can change just dinner for the week into an awesome-tasting healthy meal, that alone is a huge change that will make you feel better and save you time week to week.
Meal Prepping will not solve EVERY problem
Meal Planning is supposed to be used to relieve some stress and time from the busy parts of your week, but it takes time to learn and improve. It will not solve every problem, but it can be tailored to fit your greatest needs.

Prepping Day
Alright, you have your entire shopping list and meals planned out, and you are ready to get cooking. Here are some tips for making this part in the process easier, faster, and more efficient:
Cut/prep any ingredients for the week ahead of time.
If everything is already cut and ready to be thrown in to be cooked, this saves time and stress during the week. You can cut and prep ingredients in bulk and freeze leftovers to be used next time. This is incredibly helpful if you are planning on having a second prep day in the middle of the week.
Cook with multiple appliances at the same time.
Got a pressure cooker or crock pot? Oven? George Foreman electric grill? While you have two sheets of protein and veggies baking in the oven, prep some meals for the crockpot or maybe cook something on the stove. The idea here is to cook multiple meals at the same time with minimal multi-tasking. The oven and crock pots are great for cooking meals with minimal attention while you prep or cook other recipes. Oven roasted vegetables with seasonings are my favorite way of adding flavor and make it easier to eat vegetables in your diet. You can even cook vegetables in the oven at the same time as your chicken or other protein.
Changing how you season your food is a great way of adding variety with little effort. Cooking chicken in the oven? Season some of them with different spices than others.
These are meals that can be prepped and frozen, so that we can quickly and easily cook them on busy or stressful days.
You do not have to make everything Homemade.
There are plenty of options in the store to help you save time such as jarred sauces and curries, frozen cauliflower rice, or frozen cauliflower pizza crust. Just because food isn't made from scratch, does not necessarily mean it is unhealthy. You can even buy frozen fruits and vegetables that are great in smoothies, or can be steamed in your microwave in a few minutes. Season after they are done steaming, and you instantly have a healthy side to your protein with little effort. While bags of only frozen fruit and veggies may be great, try to Stay away from entire frozen meals as these tend to have a lot of sugars and unhealthy preservatives in them.
I hope this guide to meal prepping efficiently helps as a starter point to helping you gain control and time back into your week to help you be healthier and happier! If you are looking for great resources to find new recipes to try, the following are my favorites:
Fit Men Cook (website, youtube, and app)
Kitchn (Website)
Meal Lime (App)
Pinterest, Google, etc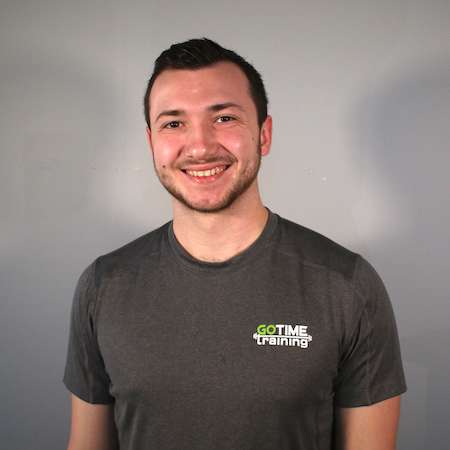 Sean Wheeler
Certified Personal Trainer
B.A. in Exercise Science, CPT ACE